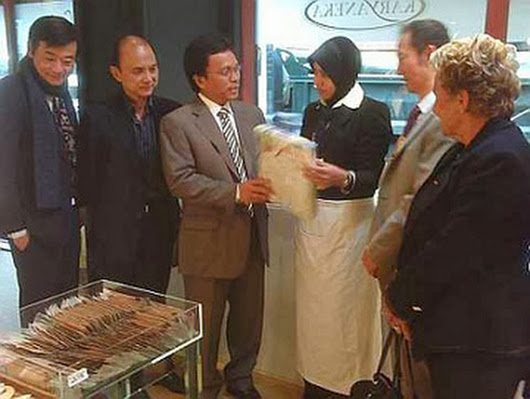 PRESS 9
Harrods Promotion
Malaysian Gallery, a month-long promotion at Harrods, will showcase more than 3,000 craft items produced by 66 of our country's best designers.
THE soothing melody of gamelan music drifted softly across Harrods' window display, a sharp contrast to the cacophony of tooting horns from London's rush-hour traffic.
For a moment, time seemed to have stood still. One can easily get immersed in the rich and resonant sounds of Terengganu's classical court orchestra.
But suddenly you're jolted out of the east coast state's idyllic images of swaying coconut trees and sandy coastline. It is back to Lon­don's iconic store in upscale Knightsbridge, which is hosting Malaysian Gallery, a month-long promotion showcasing more than 3,000 craft items produced by 66 of our country's best designers.
Like a theatre, a window display showcasing the best of Malaysian craft will be watched by tens of thousands of Britons and tourists alike over the next four weeks.
They can actually see a batik designer performing live demonstrations inside the window display during the period.
Kraftangan Malaysia's Nurul Farazura Fuad will be crafting intricate patterns on batik textiles every day, churning out beautiful pieces of art.
Well, handicraft is a living art and art is the soul of Malaysia's diverse culture.
From the vibrant and intricate hand-woven textiles such as songket and batik to elegant silverware, charming pottery and rustic rattan pet baskets, they represent a lasting beauty and priceless legacy.
Products showcased during the promotion range from textiles and accessories, wood craft, ceramics and clayware to wood carvings, pewter ware, furniture, traditionally woven baskets and batik cushion covers.
Touted as the biggest promotion of Malay­sian craft in Britain, the event has been drawing large crowds since it was launched by the Raja Permaisuri Agong Tuanku Nur Zahirah three days ago.
Well-heeled
Despite talk of a credit crunch, it is amazing how some of the products are literally "flying off the shelves" since the promotion started.
"The do-it-yourself (DIY) batik kit and rattan pet baskets, for instance, have been selling like hot cakes," said Harrods' visual merchandising manager Gianmaria Pizzocheri.
He said other popular items included traditional wooden masks and sculptures, batik cushion covers and home accessories, chinaware pottery and teapots as well as vases.
"On Wednesday, I spoke to a Russian tourist who bought two batik scarves to wear to her friend's wedding," he said, adding that she simply loved the pieces which cost a total of £300.
Pizzocheri said there had been a lot of interest from customers who were not just from Britain but all over Europe and the Middle East.
"Many wanted to know more about the songket and batik and where they can find them after the promotion," he said.
The store was doing very well despite the economic crisis, he said, adding that "we always supply our customers with the best as they love luxury, high quality stuff".
Yet even the well-heeled might think twice about the event's most expensive piece – a songket shawl costing a cool £7,890.
"It's the only piece available," he said of the gold, green and orange intricately patterned exquisite piece of art from Kuala Terengganu's Bibah Songket.
Price may not be the issue here as its founder Hajjah Habibah Zikri (or Bibah) takes pride that she only makes two pieces of the same songket design – one for the buyer and the other she keeps under lock and key as an art piece.
Giant step
There's no doubt that Malaysia is rich in the tradition of Asian craftsmanship.
Indeed, many visitors from Britain and elsewhere have marvelled at the skills and creativity of Malaysian batik producers, weavers and fashion designers.
But as Unity, Culture, Arts and Heritage Minister Datuk Seri Shafie Apdal rightly pointed out, the country's creative industries had yet to be fully tapped.
For too long, Malaysia has been largely dependent on the export of electrical goods, palm oil and rubber, among others.
It's time the country explore other resources and means of generating higher revenue for the people.
The handicraft promotion showed that Malaysian craftsmen and women have risen to the challenge to produce work of the finest quality that would sit comfortably alongside some of the world's most famous brands.
It also demonstrated that we can achieve and sustain the highest standards of design and quality.
Above all, it is a giant step towards achieving the vision of making the country an international hub for arts, culture and heritage.
Having said that, it would be interesting to gauge the popularity of the products by the end of the promotion, as some 4.5 million customers would have passed through Harrods' doors by then.